From the Artistic Director
From the Artistic Director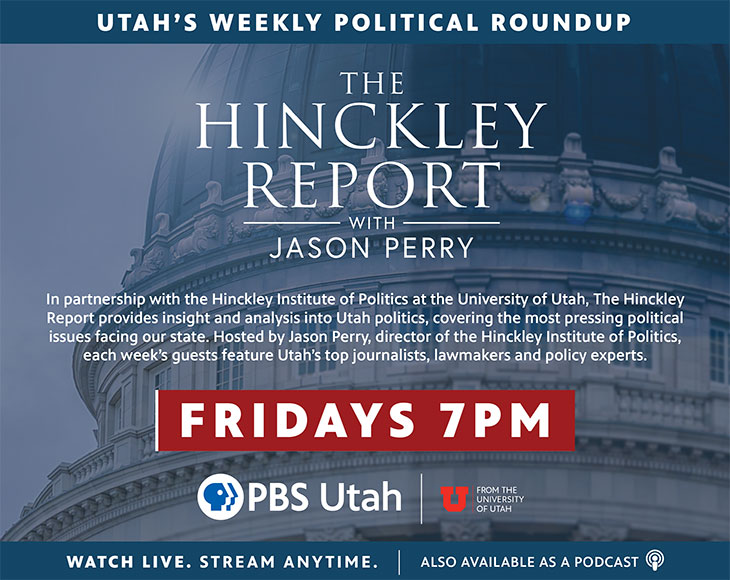 ---
Adam Sklute
---
Artistic Director, Ballet West
Welcome to Ballet West's inaugural second fall program.
When I began at Ballet West 15 years ago, we reinstated our Fall program after two years without it. This program opened our annual season either with a dynamic mixed repertory show or a beloved or rare full-length story ballet, both exciting and vital aspects of our company's mission. Over the years, however, we have found that there has been great demand from you, our cherished audiences, to experience both types of programming in the fall. So, we are proud this year to unveil two wildly different fall programs back-to-back. We just completed a run of the spectacular Pushkin story, Onegin, and now we present a trio of gems capped off by the Ballet West premiere of the Agnes de Mille/ Aaron Copland legendary collaboration, Rodeo.
For this program, I chose three works that, while each very different from the other, are masterpieces in their own way. Together, they take us on a journey from the pure and pristine, to the powerful and soulful, to the unabashedly joyful.
The program opens with George Balanchine's Concerto Barocco. First created in 1941 with his students at the School of American Ballet, it had its premiere in Rio de Janeiro as part of Balanchine's and Lincoln Kirsten's American Ballet Caravan, a touring company designed to feature the newly-emerging American form of classical ballet. This sublime work is set to Johann Sebastian Bach's Concerto in D Minor for Two Violins, and it is a supreme example of Mr. Balanchine's clear and clean, unadorned style. It epitomizes his ethos of "seeing the music." Indeed, the choreography is so well crafted that, to me, watching it illuminates Bach's elegant score in new and unexpected ways. It's interesting to note that when it premiered in Rio in 1941 to great success, Harold and Lew Christensen were part of that troupe while Willam was back in the states teaching and directing. This ballet was, in fact, one of a handful of works the renowned Mr. B. gave to our founder Mr. C when Ballet West was first beginning.
I've placed Czechoslovakian choreographer Jiří Kylián's remarkable Return to a Strange Land in the middle of this program. This dreamlike, meditative, and startlingly athletic work was first created in Stuttgart, Germany in 1975. Its history and creation are fascinating in the context of this season. Kylián was a dancer for The Stuttgart Ballet under the direction of John Cranko. If any of you were able to see our revival of Onegin just a couple of weeks ago, you were able to experience what a master storyteller Cranko was. The Stuttgart Ballet had just completed a triumphant tour to the United States. On the plane back to Germany, Cranko unexpectedly passed away. Kylián created this work as a homage to his director and mentor. He said returning to Stuttgart without Cranko was like returning to a strange land, hence the title. Kylián uses haunting piano music by Leoš Janáček, a Czech composer he has created with repeatedly throughout his career. Kylián combines the elegance of neoclassical ballet with a more grounded modern dance sensibility, and for this work, duet and trio partnering are almost ice-skater-like in its athleticism, all the while, never losing the emotional depth of feeling emerging from Janáček's music, unlike any other.
Finishing the program is the long-awaited Ballet West premiere of Rodeo. In 1942, Agnes de Mille choreographed this new American work and premiered the leading role of the cowgirl herself. The ballet garnered 23 curtain calls, which solidified it in the pantheon of leading 20th-century ballets. Now Ballet West is honored to celebrate the 80th anniversary of this groundbreaking work's creation. De Mille envisioned a new and American-themed piece of dance theater specifically for the ballet stage. She was very much a part of a broader movement of the time, choosing to establish a style of dance that encompassed the legacy of classical ballet with both the burgeoning American modern dance scene and stories based on American themes.
De Mille developed the sweet story of a young woman who just wants to be "one of the guys," but to get the romantic attentions of the head cowboy, she attempts to dress more "femininely," only to discover she can be loved for who she naturally is. De Mille approached composer Aaron Copland, who had recently had success with another cowboy-themed ballet, Billy the Kid. Incidentally, Billy the Kid had its premiere in 1938 as part of the aforementioned Ballet Caravan that premiered Balanchine's Concerto Barocco. In fact, the role of Pat Garrett in Billy was created on a premiere by Lew Christensen. With the instant success of Rodeo, de Mille was approached by Richard Rogers and Oscar Hammerstein to do the choreography for a new show that would revolutionize American musical theater – Oklahoma! Between that, Carousel, and many others, Agnes de Mille built a sensibility approach to dance that has influenced American dance choreography to this day. With this revival, I have also been fascinated by how we as 21st-century audiences can interpret what the 1942 Rodeo says about gender identity and inclusion. At the end of the ballet, we the audience, along with the Cowgirl herself, realize her best friend, the Champion Roper, loves her for the "tomboy" she always was. This is a strong message of celebrating our own individuality.
All three works each bring us the transporting experience that can only be had in live theater. Together, they also illuminate the development of our current understanding of ballet with their specific approaches to music and movement. It is a testament to the Ballet West artists that they can so smoothly move from one style to another and dig into the unique details and challenges of each work.
As always, we are eternally grateful for your support and patronage! We hope you enjoy the performance. Adam Sklute
Artistic Director
Ballet West
---
Since 2007, Adam Sklute has expanded Ballet West's outlook, repertoire, and visibility with exciting Company and world premieres, increased touring, heightened public exposure, and greater focus on the Ballet West Academy. He began his career with The Joffrey Ballet, rising through the ranks from dancer to Associate Director. His stewardship of Ballet West has been marked by both financial growth and elevated artistry, and was the subject of The CW Network's docu-drama,
Breaking Pointe
, which aired for two seasons. From September 2016 to October 2017, Sklute took on the dual position of CEO and Artistic Director, overseeing both administrative and artistic operations of Ballet West. An internationally sought-after teacher and adjudicator, Sklute has received numerous awards, including Utah's Enlightened 50 (2014), The Bronze Minuteman Award for Outstanding Service to Utah and The Nation (2015), and Utah Diversity Connection's Business Award for outstanding commitment to diversity initiatives. Most recently, Sklute was included in
Deseret Magazine's 25 Changemakers of the West
for his efforts to build greater equity and inclusion in classical ballet.