From the Artistic Director
From the Artistic Director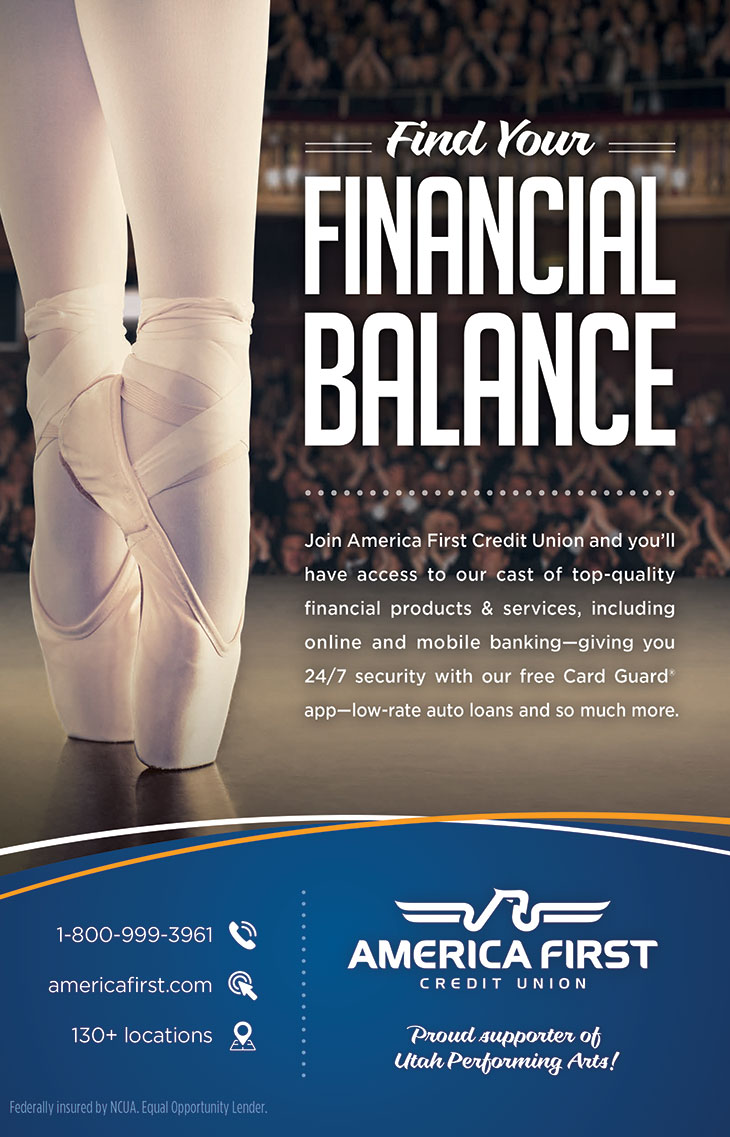 ---
Adam Sklute
---
Artistic Director, Ballet West
Dear friends,
Welcome to the opening of Ballet West's 59th season, my 15 season with the company, and our revival of Onegin, considered by many to be one of the world's greatest ballets and without a doubt one of my most favorite works. It was such a hit with audiences when we premiered it in 2019 that I knew it needed to come back. This time we are doubly excited as we present it with our own physical production acquired from Germany and a perfect fit for the Janet Quinney Lawson Capitol Theatre. We are now the only company in the United States to own the sets and costumes for this world-renowned ballet.
Based on Alexander Pushkin's passionate verse novel Eugene Onegin, Onegin was conceived and choreographed by genius choreographer John Cranko in 1965. Cranko selected music by Tchaikovsky to accompany the ballet, in a wonderful arrangement by Kurt Heinz-Stolze. Tchaikovsky had written the opera Eugene Onegin in 1879, which has since grown to become a classic. However, for his ballet, Cranko chose not to use any of the music from the opera. Instead, with great innovation, he selected various pieces from the composer's sublime and prolific orchestral repertory. The result, Onegin, became an instant hit, catapulting Cranko's company, the Stuttgart Ballet, to international fame.
Pushkin's original verse novel was published serially from 1825 to 1832, in pre-revolutionary Imperial Russia. Not dissimilar to Jane Austen's 1813 English novel Pride and Prejudice, Onegin follows a dark and brooding nobleman from the city (Eugene Onegin) who moves out to the provinces, befriends a lighthearted country nobleman, and meets the nobleman's fiancée and her older sister, Tatiana. This is where the Russian tale takes on a darker hue than its gentler English counterpart does —Tatiana instantly falls in love with Onegin and, after their first meeting, writes him a passionate letter professing her undying love. Onegin rejects her as being too boring and rips up the letter. He is uninterested, and condescending. Worse yet, through a series of events, he ends up killing Tatiana's soon-to-be brother-in-law in a duel. Tatiana cannot forgive him, but she goes on with her life, marrying a prince. Onegin suffers, experiencing deep guilt for killing his friend, and never finds another woman who loves him as much as Tatiana did. Years later, he is invited to a royal ball, and does not realize at first that Tatiana is the prince's elegant wife. They are shocked to see each other. Now, Onegin writes a letter declaring his undying love for Tatiana, begging for her forgiveness. She refuses him and rips up his letter; they will never see each other again. While Tatiana has had a happy ending, it becomes clear Onegin will never find happiness in his life.
Onegin is filled with the perfect material for a dramatic ballet. And in my opinion, no choreographer was better suited to interpret this intense story than John Cranko, who possessed a gift for storytelling through movement. Cranko knew how to give his dancers deep emotions and serious acting to "sink their teeth into." A master choreographer in particular, his astonishing pas de deux features intricate and spectacular movements. At the heart-melting end of Act I, in which Tatiana writes her love letter to Onegin, Cranko ingeniously conceives of Onegin appearing in a dream to her after she falls asleep. In her dream, he is everything she wants him to be: loving, romantic, kind. As the ballet continues, again through Cranko's deft handling of Pushkin's story, we come to find that Onegin is not any of these things Tatiana imagines. At the end of the ballet, Cranko conceives of another pas de deux in which Onegin begs for Tatiana's forgiveness. Now, as very real, mature, and flawed human beings, Onegin and Tatiana repeat many of the maneuvers from the Act I dream scene but with a more grounded, earthier and, at times, broken quality. These are just several of Cranko's innovations throughout the ballet.
John Cranko created a remarkable body of work that only a select few companies around the world are permitted to present. Tragically, he died unexpectedly in 1973, only eight short years after creating Onegin as a ballet. I often wonder where his creative process would have taken him next, had he lived longer. I am grateful to Jane Bourne, who helped stage this revival, and to Reid Anderson and to Dieter Graefe, who oversee Cranko's legacy through the late choreographer's trust, also to my Artistic Staff - full and part-time - who went above and beyond for this one. And I am particularly grateful to you for joining us for this brilliant ballet. I hope you leave the theater as inspired as I am every time I see Onegin.
Thank you for your patronage, Adam Sklute
Artistic Director
Ballet West
---
Since 2007, Adam Sklute has expanded Ballet West's outlook, repertoire, and visibility with exciting Company and world premieres, increased touring, heightened public exposure, and greater focus on the Ballet West Academy. He began his career with The Joffrey Ballet, rising through the ranks from dancer to Associate Director. His stewardship of Ballet West has been marked by both financial growth and elevated artistry, and was the subject of The CW Network's docu-drama,
Breaking Pointe
, which aired for two seasons. From September 2016 to October 2017, Sklute took on the dual position of CEO and Artistic Director, overseeing both administrative and artistic operations of Ballet West. An internationally sought-after teacher and adjudicator, Sklute has received numerous awards, including Utah's Enlightened 50 (2014), The Bronze Minuteman Award for Outstanding Service to Utah and The Nation (2015), and Utah Diversity Connection's Business Award for outstanding commitment to diversity initiatives. Most recently, Sklute was included in
Deseret Magazine's 25 Changemakers of the West
for his efforts to build greater equity and inclusion in classical ballet.